Precise and energy saving injection molding machine 500Ton
The pressure and flow differ in each stage of plastic injection. The RPM of the traditional oil pump motor is invariable, so the redundant oil just overflows into the oil and o lot of energy wasted.
Servo motor injection molding machine is able to control the RPM by computer, thus the hydraulic pressure matches the power needed in run, ensuring the quality of products with lower energy consumption.
Unit
D500S
ITEMS
A
B
C
INECTION UNIT
Screw Diameter
mm
75
80
85
Screw L/D Ratio
L/D
23.5
22.0
20.7
Shot Size(Theoretical)
cm3
1785
2031
2292
Injection Weight
g
1624
1848
2086
Injection Pressure
MPa
216.5
190.3
168.6
Injection Rate into Air
cm3/s
383.9
427.4
436.8
486.3
493.1
549
Injection Stroke
mm
404
Injection Speed
cm/s
8.7/9.7
Screw Speed
rpm
157 /175
CLAMPING UNIT
Clamping Force
KN
5000
Clamping Stroke
mm
840
Space Between Tie Bar
mm
820*820
Max. Mold Height
mm
800
Min. Mold Height
mm
320
Eject Stroke
mm
200
Eject Force
KN
124
No. Of Ejector Pins
piece
17
OTHERS
Max. Pump Pressure
MPa
17.5
Pump Motor Power
KW
45.0
55.0
Heater Power
KW
32.6
Hopper Capacity
Kg
50
Oil Tank Capacity
L
900
Weight
T
20
2. Mold platen drawing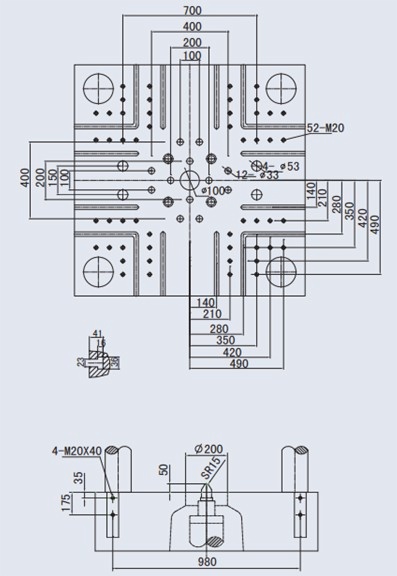 3.Machine size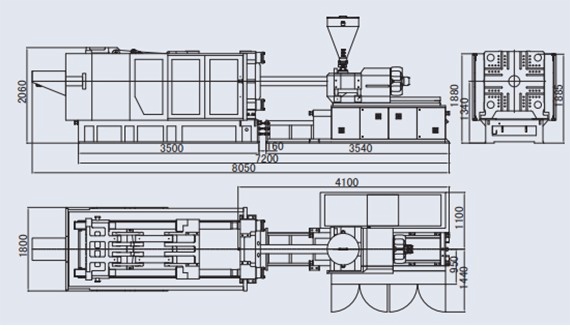 precise and energy saving injection molding machine is the latest product. It is driven by servo motor, fit for production of precise products. Our machine has main advantages as following: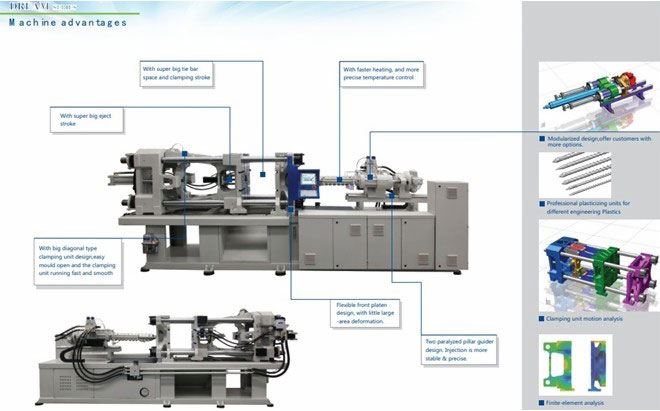 * Energy Saving
The pressure and flow differ in each stage of plastic injection. The RPM of the traditional oil pump motor is invariable, so the redundant oil just overflows into the oil and o lot of energy wasted.
Servo motor injection molding machine is able to control the RPM by computer, thus the hydraulic pressure matches the power needed in run, ensuring the quality of products with lower energy consumption.
High performance servo motor system, hydraulic components from world famous brand, saves power by 50-80%. Servo motor system with quick response, response time 30-50ms
* High efficiency
The efficiency of the traditional electromotor is very low, and the power factor will contribute to the loss of power. However, the servomotor doesn't have this problem and will improve the efficiency by 10% than that of the traditional one.
* Precision
Fast response. It takes only 0.03 seconds for the pressure flow to go up. The machines have higher position accuracy (0.1mm) and repeatability than those of traditional machines.
*With super big tie bar space and clamping stroke, with super big eject stroke
*With big diagonal type clamping unit design, easy mould open and the clamping unit running fast and smooth
*Flexible front platen design, with little large-area anit-deformation.
*With faster heating, and more precise temperature control
*Two paralyzed pillar guider design, Injection is more stable& precise
*High-precision hydraulic oil filter system, oil temperature /level instant monitoring
*Versatile controller with excellent QC monitoring function, temperature detecting function.
*Hydraulic routes with the fewest bents, welding and with the shortest route